The Gate and the Square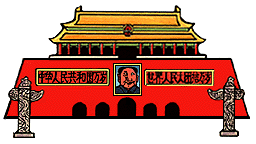 I hope the day will come when all you can see from Tiananmen Gate is a forest of tall chimneys belching out clouds of smoke.

--Mao Zedong, in comments made on Tiananmen in October 1949





See the Media Library for related film clips and images.

From the rostrum of Tiananmen Gate, the Gate of Heavenly Peace, Chairman Mao declared the founding of the People's Republic on 1 October 1949. By staging the founding day ceremonies here, on one of a series of entrances into the Imperial City, the Communists were declaring an end to the old order.

The open area in front of Tiananmen Gate was where ministers and subjects had previously gathered to hear the proclamation of imperial edicts. In the 1950s, the Chinese government ordered the building of a great square, large enough for a million people to gather en masse. Tiananmen Square became a gigantic official space - nearly one hundred acres - in which the public could be enlisted and contained for political purposes.

Tiananmen Gate was reconstructed and reinforced with concrete, and from it Mao and other Party leaders watched parades, the Cultural Revolution, and other events. For a time Mao considered leveling the Imperial Palace that stands behind Tiananmen to build a Chairman's office. The Gate is now flanked by reviewing stands built for dignitaries invited to witness official, self-congratulatory Party parades and demonstrations.

Tiananmen Gate was the focal point for the 35th Anniversary celebrations of the People's Republic of China in 1984, the apotheosis of Deng Xiaoping's career, and the centerpiece of the celebrations of the 40th Anniversary of the People's Republic in 1989. The Gate is also the central feature of the national insignia of the People's Republic of China.

For further readings about Tiananmen Gate and the Square, see essays by Jonathan Spence, The Gate and the Square, and Wu Hung, "Tiananmen Square: A Political History of Monuments," in Representations 35, Summer 1991.
---